Real time insight into team's time
TIEMCHART resource management software allows you to have real time visibility of available resources and utilisation.
The dashboard enables you to get better insight into understanding who on your team is busy and who's not. With this information now available in real time, you will be able to assign and reassign resources into project based on their availability.
Advanced skills tracking and searching
At times you might be interest to know the available resources in terms of resource category, skills and its location. TIEMCHART resource management software enables such easy filter of your resource right from dashboard.

Gain complete project visibility
We bring a systematic approach to managing a project and identifying its task much earlier in advance. This helps you to understand the task that needs to be prioritised to avoid project delays.
Within the Gantt chart, you can directly assign human and capital resource on each individual task.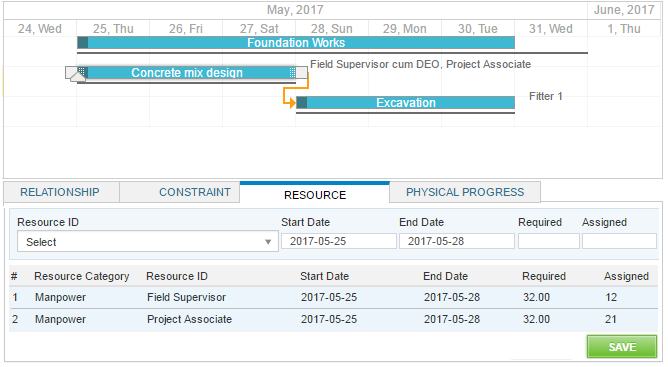 To do list
To do list is an easy drop down list of task with the most recent task that is required to be completed. As soon as you have created a task and delegated it to someone, to do list will keep track of all deadlines, send automatic reminders and notify you of task progress.

Project task that has caused delay
Another important Tiemchart resource management software features is the ability to track task that has caused delay in the project. Project overview present the project status in regard to number of task that is in progress (within deadline), not yet started and those that has crossed deadlines

Get Alerts and notification
Once a task is assigned to the user, it appears on the user dashboard and also email notification goes out every days with the list of task user needs to carry out during the day.